Meet Austin Craig, Summer Intern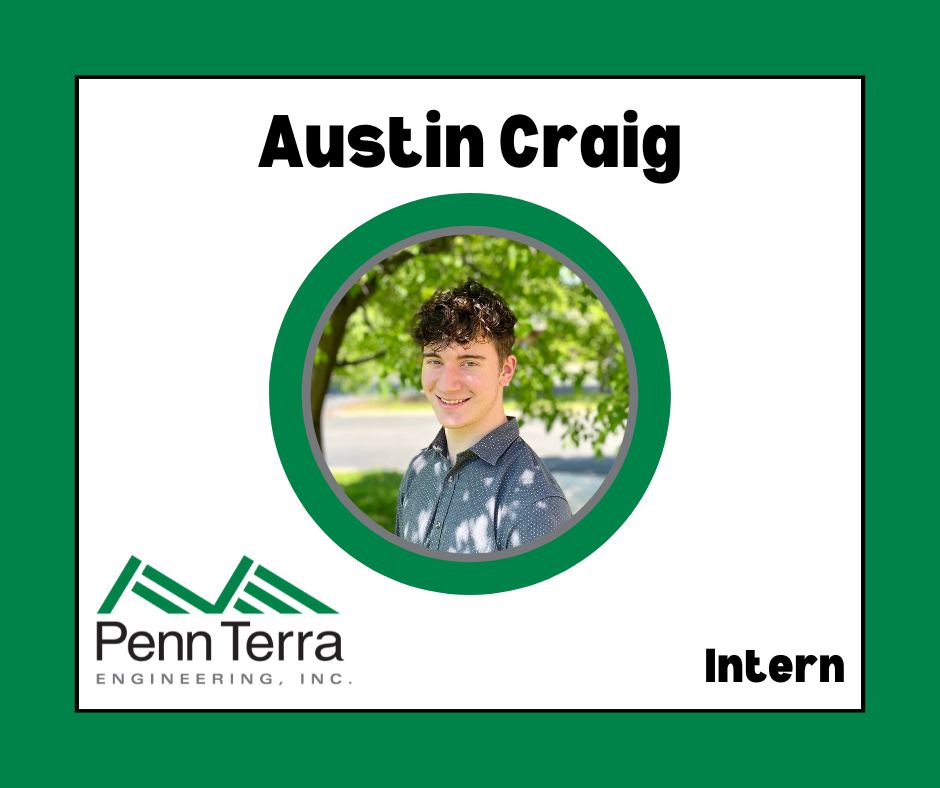 With mortar boards tossed, tassels moved, and warmer weather approaching, some may be tempted to say that summer has arrived. At PennTerra Engineering (PTE), the office has a new energy because it is intern season! Each summer, PTE opens its doors to students pursuing a civil engineering – or similar field of study – degree.
This summer, PTE is proud to welcome aboard Austin Craig, a Penn State Civil Engineering student and Bellefonte Area High School alumnus.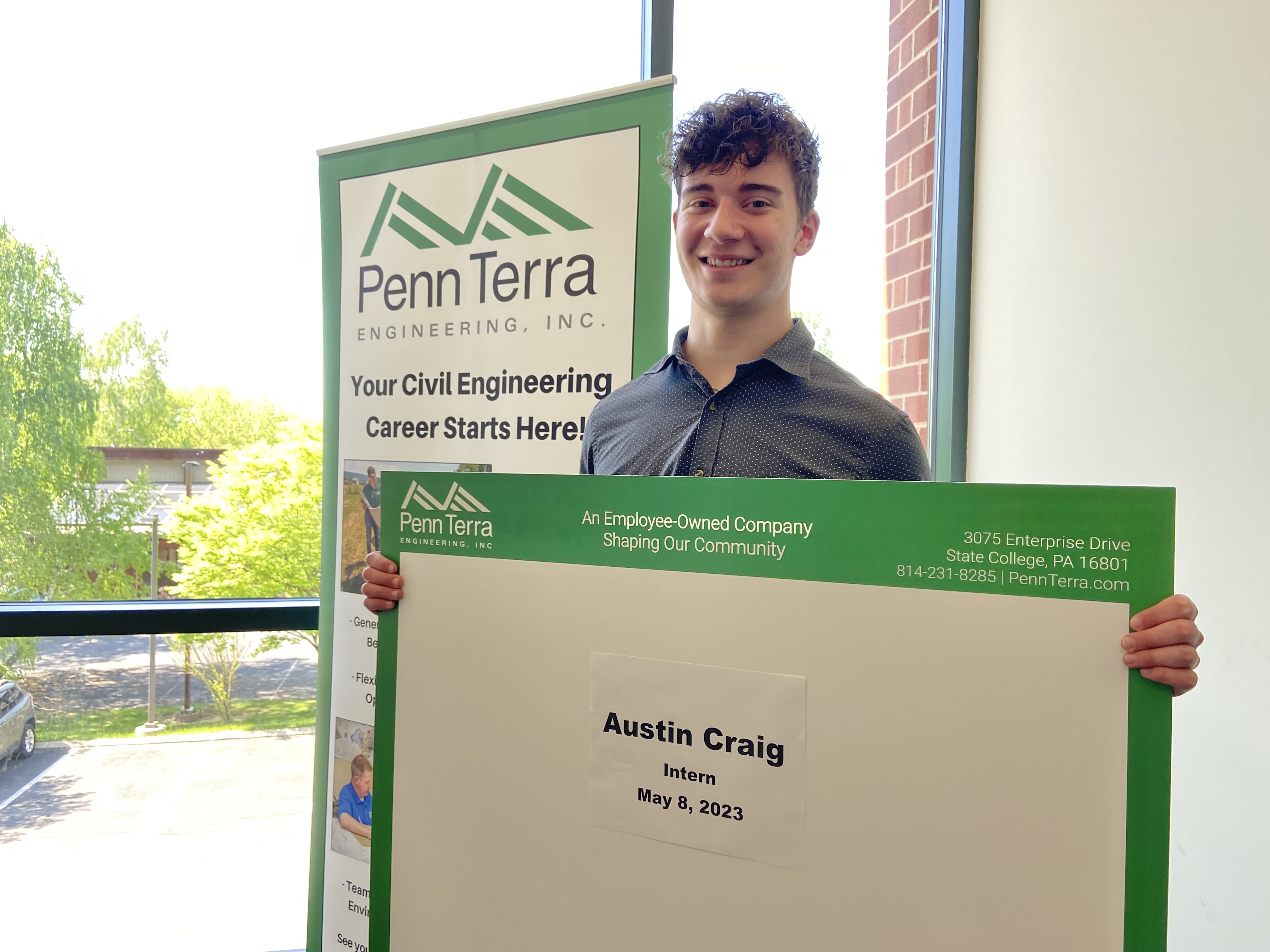 "As a sophomore, Austin is the youngest intern that we've hired," said John Sepp, P.E., President of PTE. "After shaking his hand at the career fair, the next thing I noticed was his exposure to and experience with CAD – it jumped off his resume and I knew he would do well at PennTerra."
Career fairs are a great place to meet future civil engineers in person, discuss career opportunities, and hear about their interests, goals, and current skill sets. The Penn State American Society of Civil Engineers' (ASCE) fall career fair is a cornerstone of PennTerra's recruiting circuit.
"When I met John and Ellie (Leyo) at the career fair, I remember thinking, 'yeah, these people know what they're talking about,'" recalled Craig. "They're actually interested in helping me learn and grow my career."
Although Craig's college curriculum has, so far, only included an introductory course to AutoCAD Civil 3D, he has been working with various CAD programs since his days as a Red Raider.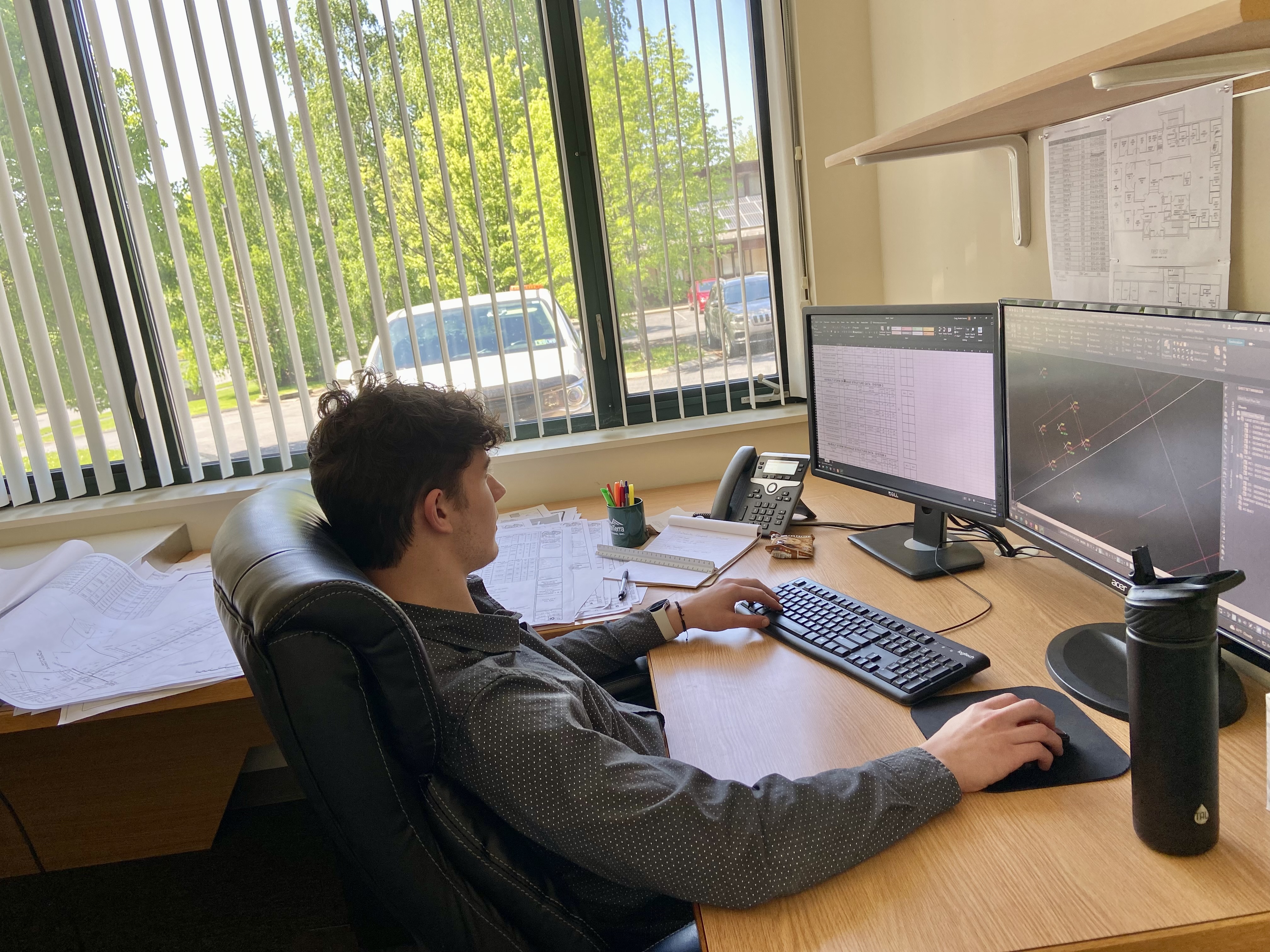 "My grandfather was a wire rope supplier for bridges and sometimes he'd take me on site or show me pictures – I always thought it was really cool," Craig remembers. "In high school, I considered pursuing architecture because I liked buildings, but I wasn't sure. So, I took a bunch of CAD courses. After Lock Haven discontinued my major, I had a gap semester that I spent a lot of time at CPI (Central Pennsylvania Institute of Science & Technology)."
CPI had secured grant money to purchase a new computerized numerical control (CNC) machine for their cabinetry classes. However, the faculty needed some assistance in setting up the new machine.
"I spent pretty much my entire time a CPI, programming tool paths for the CNC machine," Craig said. "I had used a CNC machine in high school. So, once I got a feel for it, I was able to show the instructor of the carpentry program some things. The program I used was made by AutoDesk, the same company that made Civil 3D, so the user interfaces are similar."
Craig also has experience with Autodesk's Revit software and 3D printing.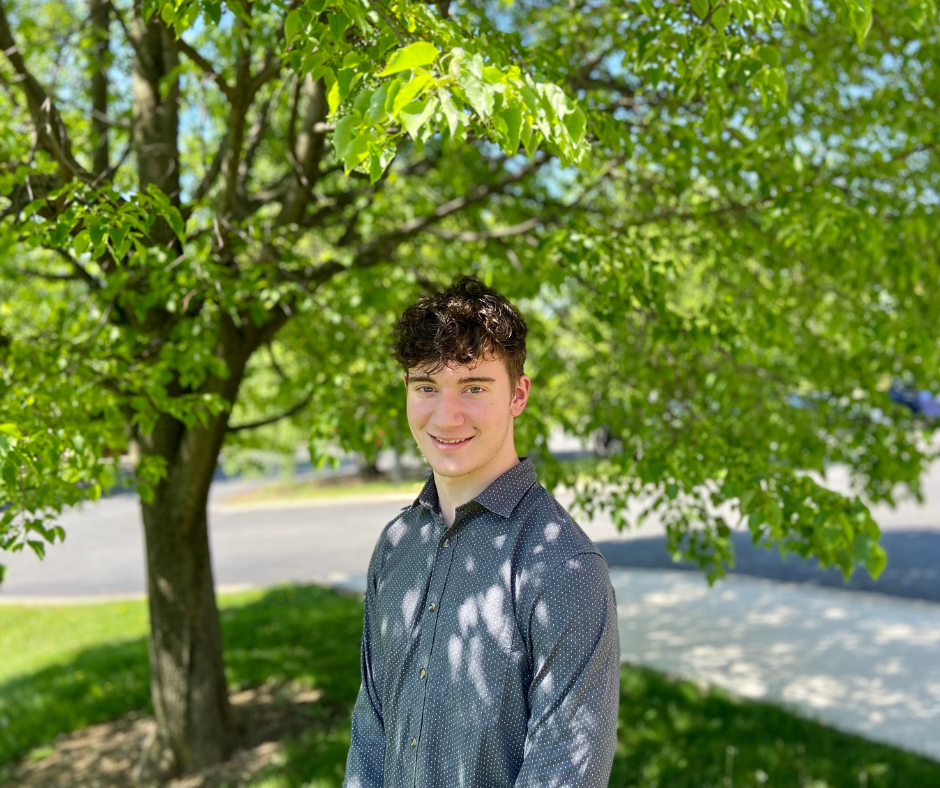 To help him get up to speed with PennTerra's processes and working in Civil 3D, he began coming to the office a few hours each day beginning in January. He is already reaping the rewards of his diligence, working as a design technician on plans.
How does it feel to initial his own plans?
"It's something to be proud of for sure," he smiled. "This is my work that someone is going to be using."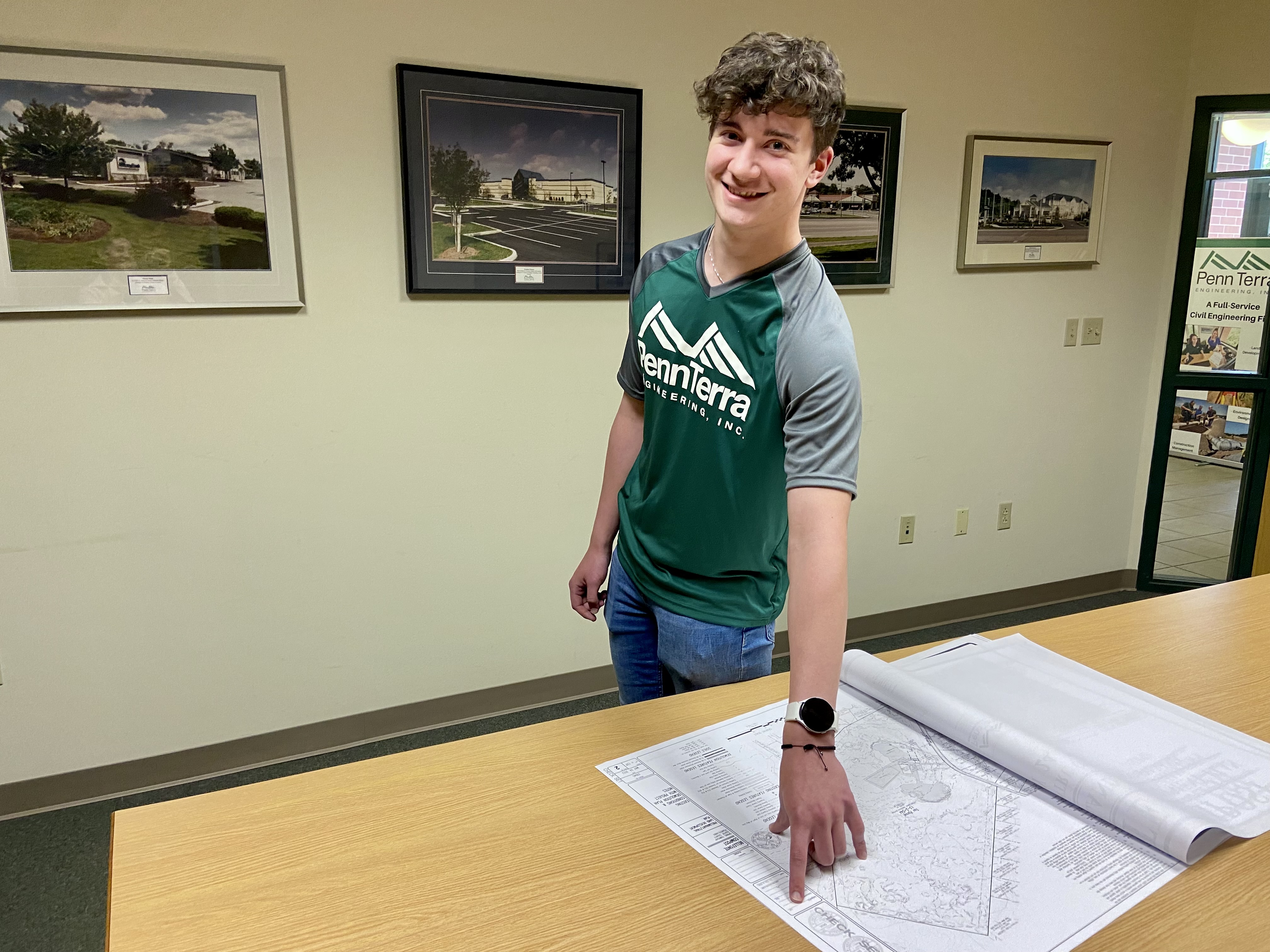 With several subdisciplines within Civil Engineering, Craig was thoughtful in selecting an internship with PTE, a firm that specializes in land development and has an environmental team.
"I'm not entirely sure what subdiscipline I want to take, whether I want to continue with CAD, be in the field more, or go into structures or environmental," explained Craig. "That's why I wanted to come here. The first step in any big project is land development: getting a design down, figuring out how it affects the site environmentally, and getting a survey team out."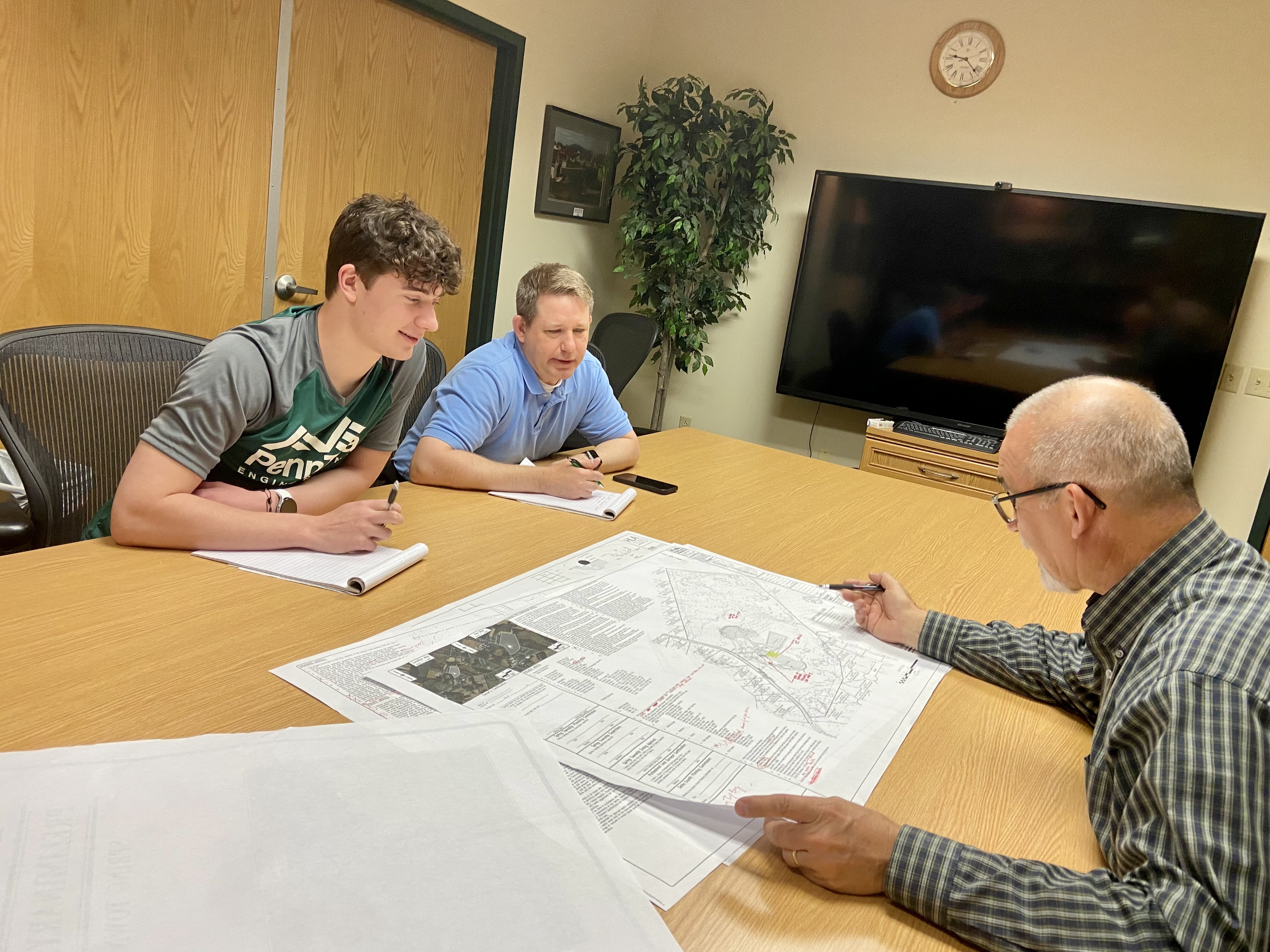 Craig is now witnessing these first steps play out in real time. Once the survey team goes into the field, their data points are exported and used to create a basemap.
"The physical elements of the world are brought into a CAD program," Craig explained. "I've learned how to bring in points from the field into CAD. Now, it's actually clicking in my head. This is how we can look at what the surveyors shot in the field, if it's good data or bad data, if we need to fix shots that were taken in the field. You know contours, elevations, and you can decide where to put what the client wants. The end result is a design on a piece of paper, a visual element to give to a client."
Internships provide context and real-world application of textbook topics. Hands-on experience is a powerful tool in shaping professional expertise.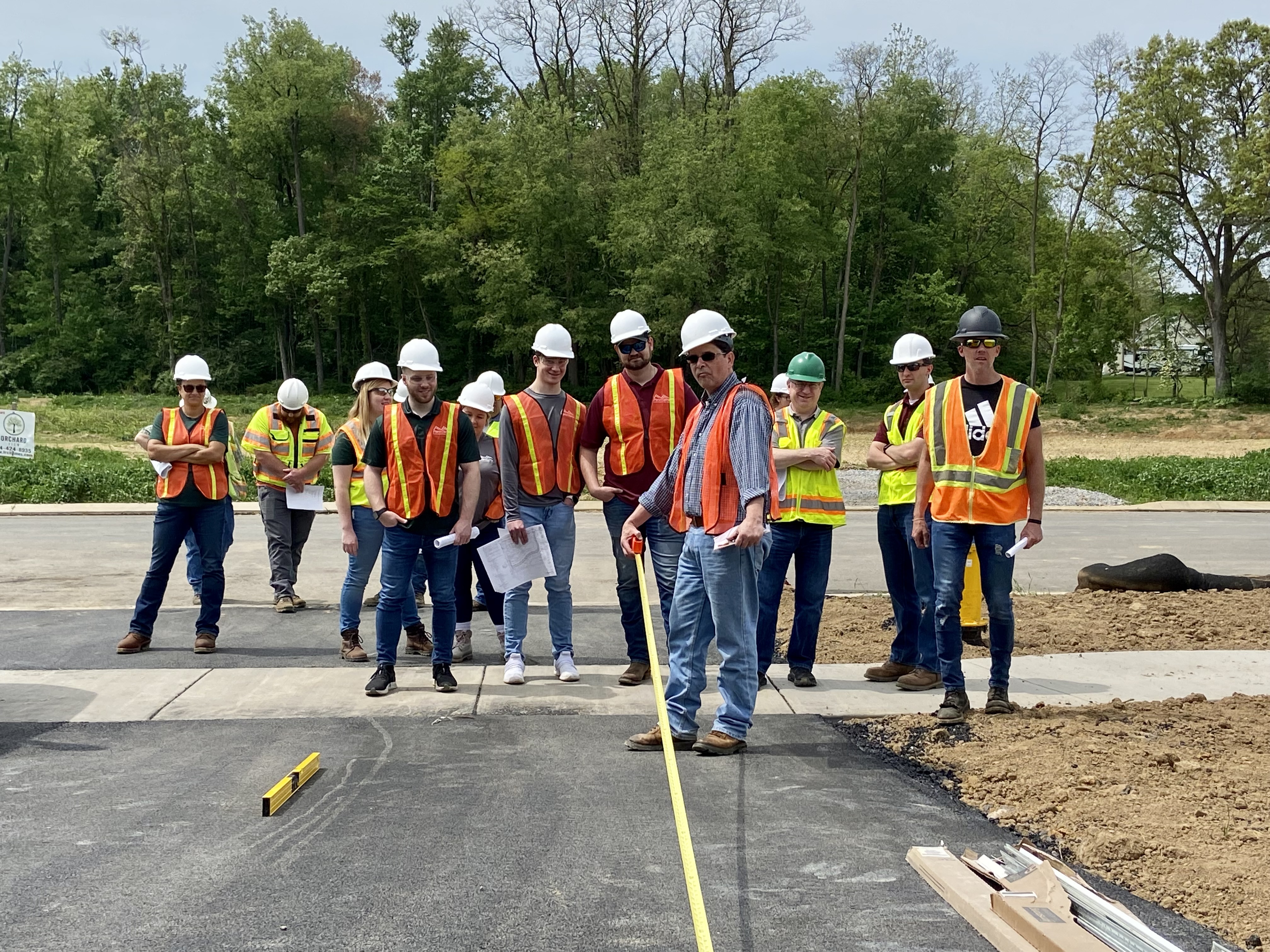 "I've already learned so much," Craig marveled, thinking of his first few full-time weeks at PTE. "Terminology. Now, I know the functionality of some of these things. For example, I could've told you that water goes into an inlet. But now I can tell you that it goes into an inlet, then into a pipe, and then into a detention basin. Basically: inlet, pipe, inlet, basin."
What else is he learning?
"(Dirt) fill is expensive, so trying to even out the cut and fill that you have on a site will make projects so much cheaper," noted Craig. "What the roles are in project development, how a PM (project manager) communicates with a client. The cost of ripping up pavement when deciding where to locate a building. Figuring out how much impervious coverage is allowed."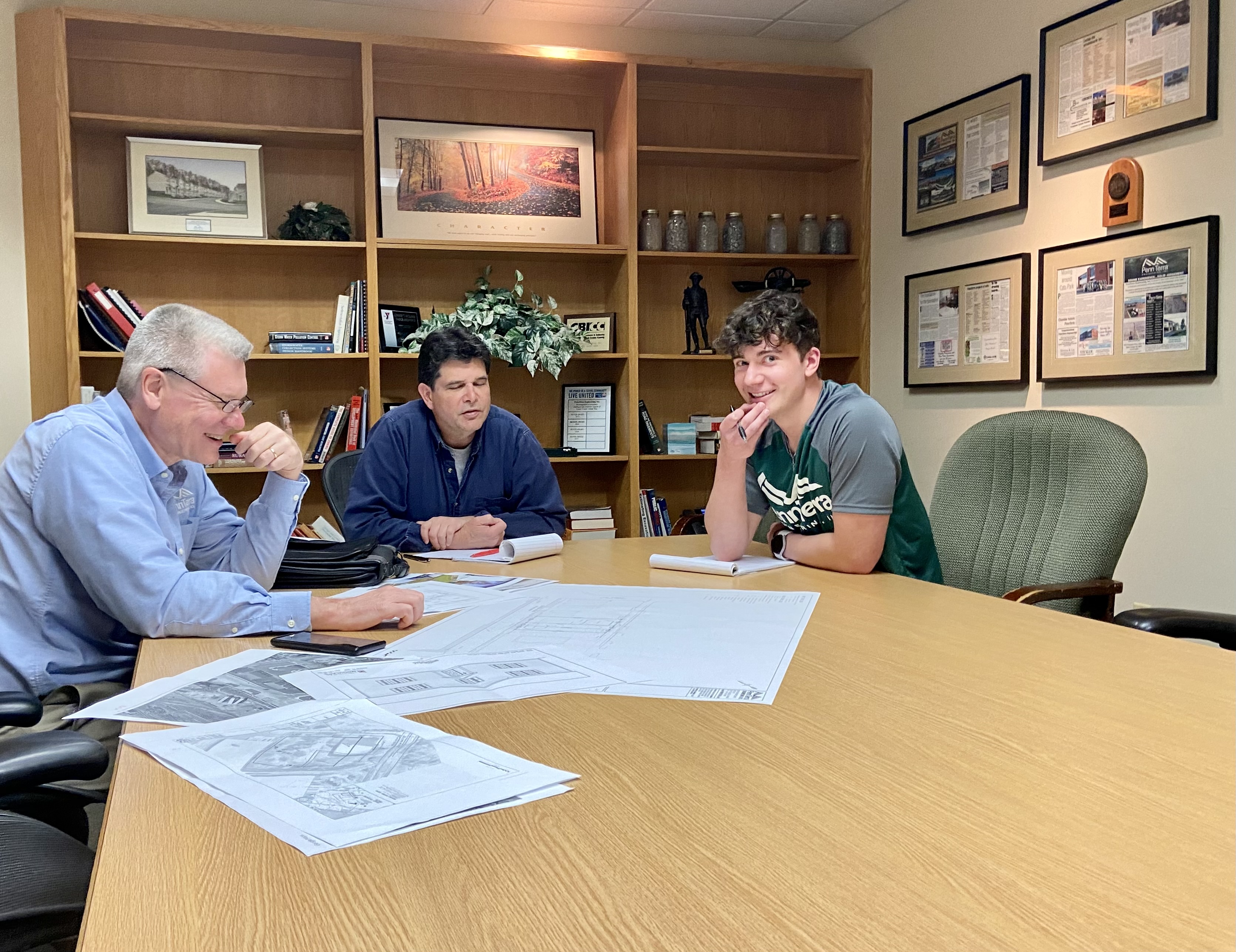 Learning the rules of the road and how they impact a project is another valuable takeaway for interns.
"That's another thing that I'm learning - codes and ordinance for various townships, how some are stricter," Craig mused. "Growing up, I knew that they had different codes and ordinances, like how there are no light-up signs in the Bellefonte Borough to preserve the historical character. Now, I have the knowledge to find (the ordinances), apply it to a project, and tell the client, 'you can/cannot do this because the townships says you can or cannot.'"
Since Craig began his full-time internship at PTE, he has been welcomed as one of the team. During the weekly staff meetings, he reports on his own projects and hears about all of the other projects that are currently in progress. He has also gone on a site visit to see a new residential development: Orchard View.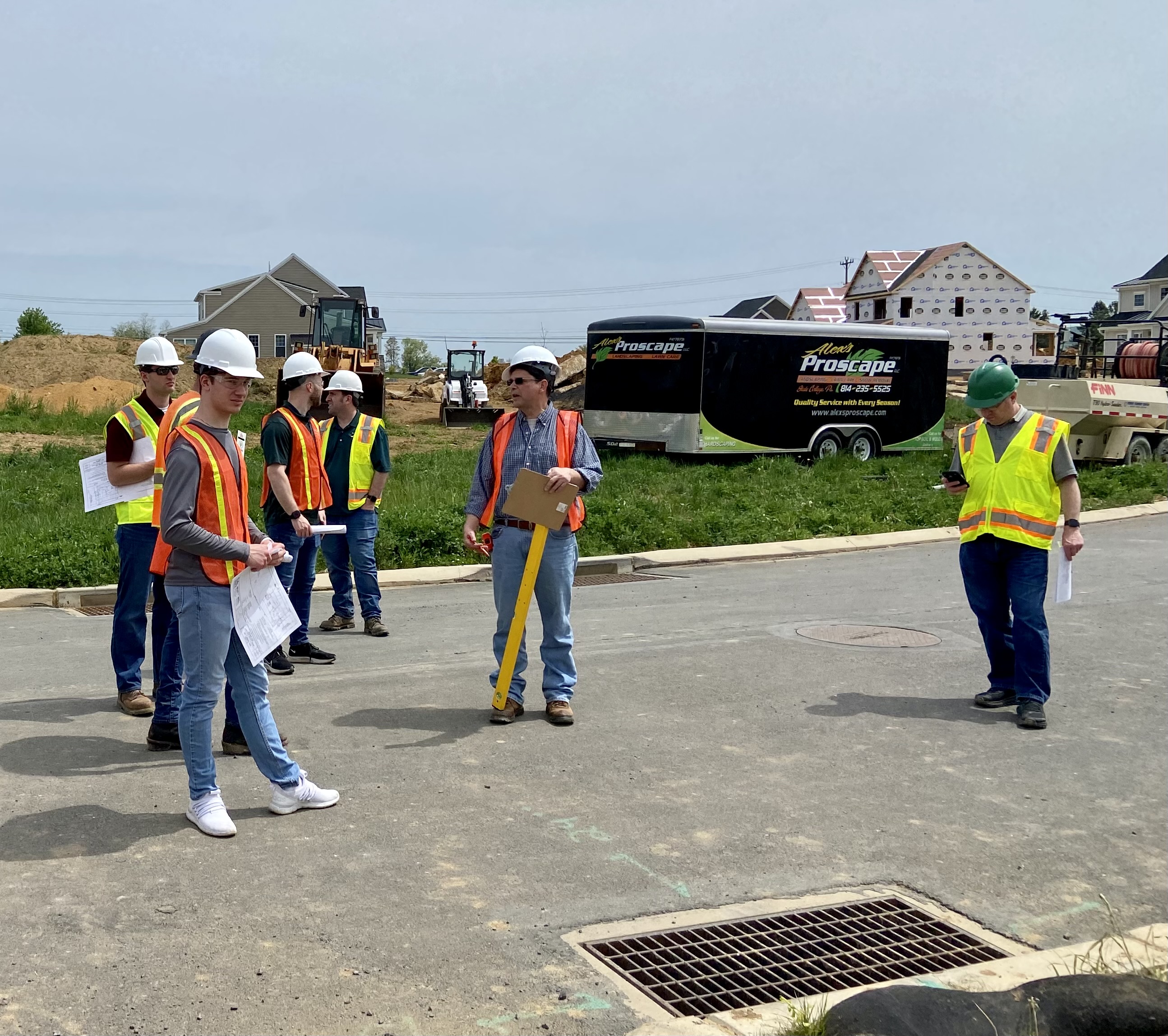 As part of PTE's ongoing training and mentorship initiatives, Craig also attended a recent project manager training that Sepp hosted.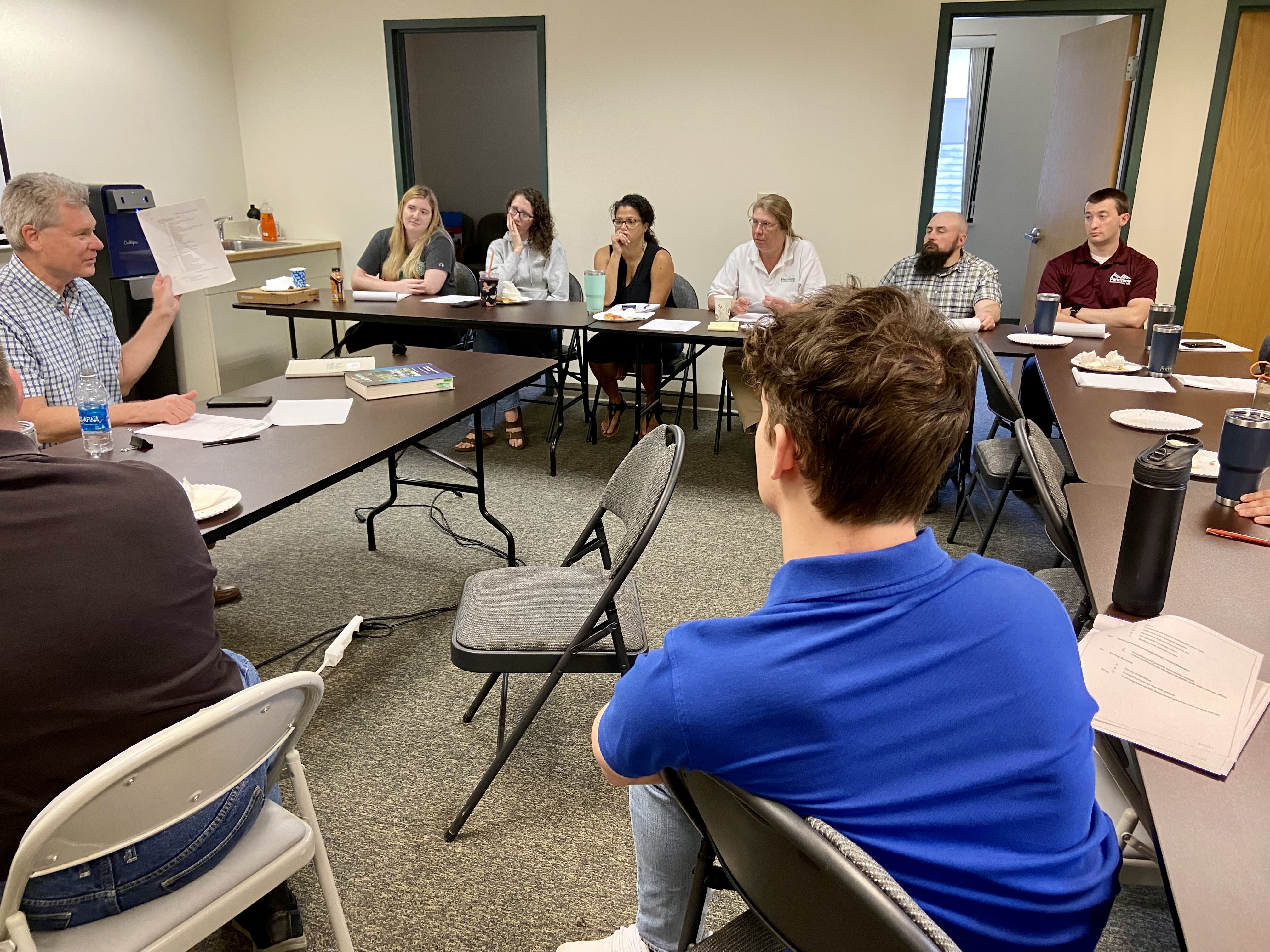 "That was probably one of my biggest incentives to working here," Craig recalled. "There are a lot of really experienced people here."
It's not all work for PTE's employee-owners. This summer's plans include a hike to Musser Gap, a visit to J&L Cidery, and a night out with the Spikes.
Craig is an avid sports fan and is playing on PTE's co-ed softball team, the Silt Sox.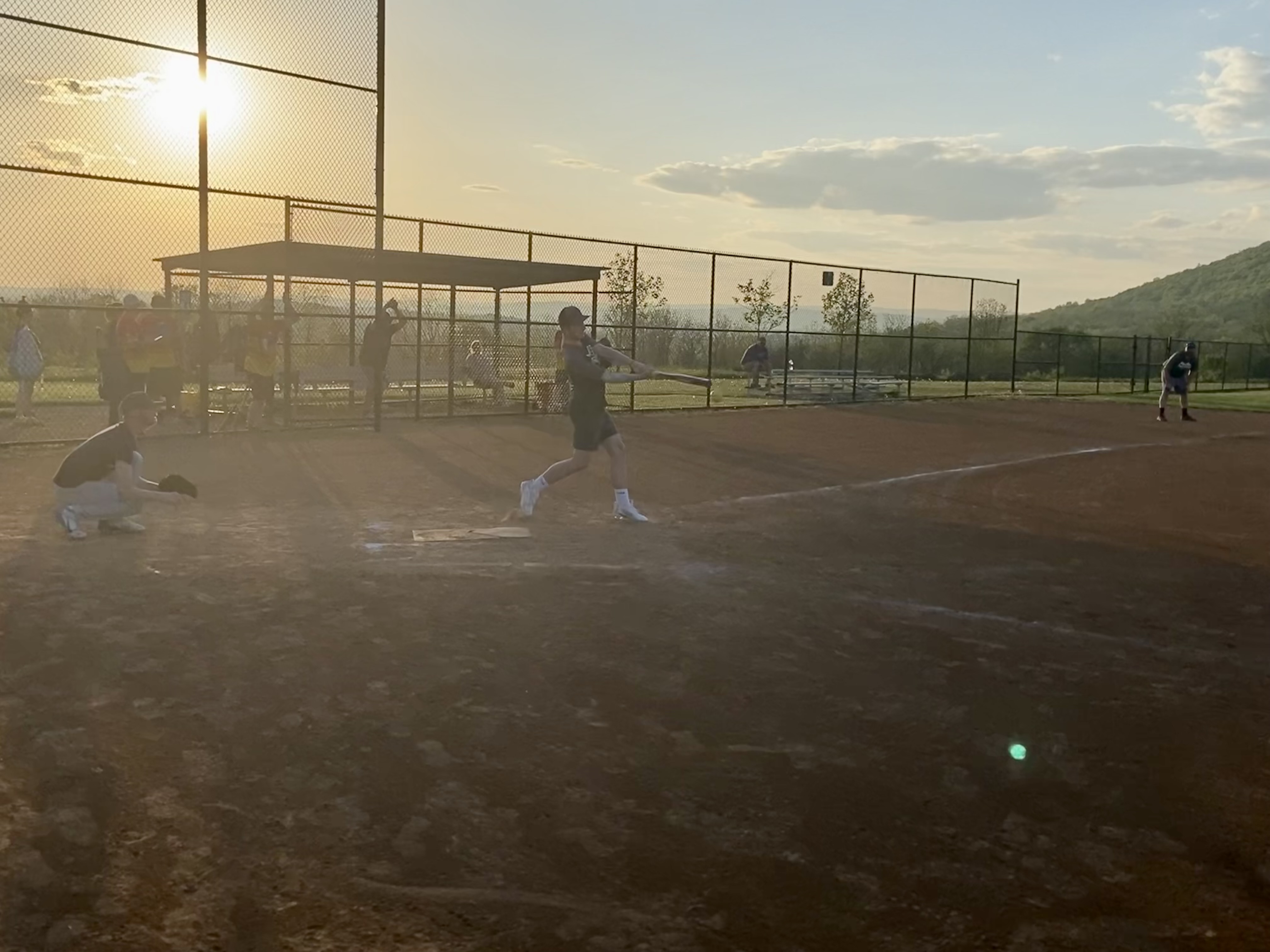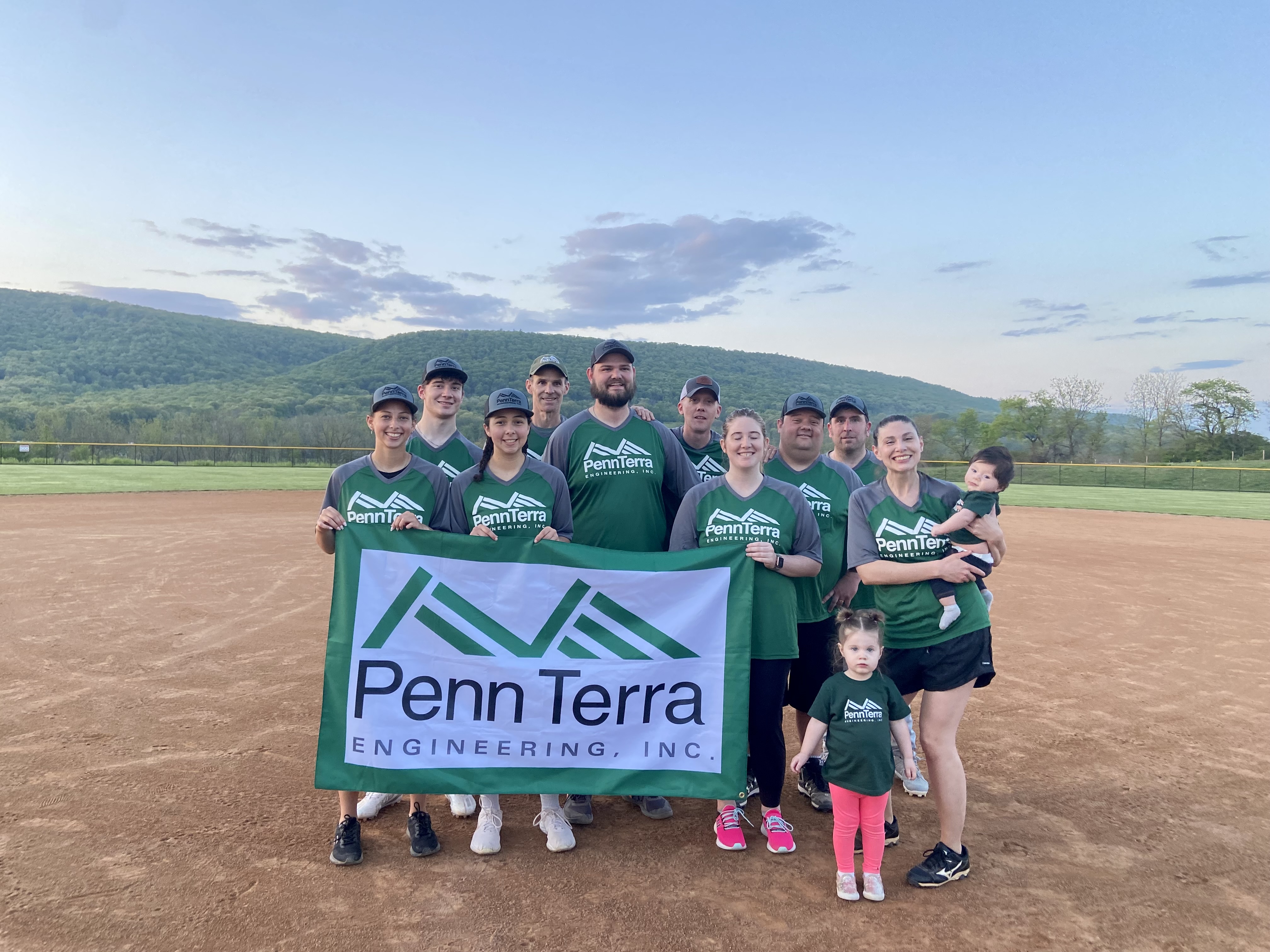 "I think I attended all but three Spikes' games last summer," he said. "That's what I do in my free time – just attend sports games."
As the president of the Roar Zone, Penn State Men's Hockey Student Section, attendance at games is given.
"I'll be the one banging on the drums," Craig laughed.
With plenty of alumni and fans in the PTE crew, there are sure to be some familiar faces in the crowd at Pegula this fall when Craig leads a "We Are" chant.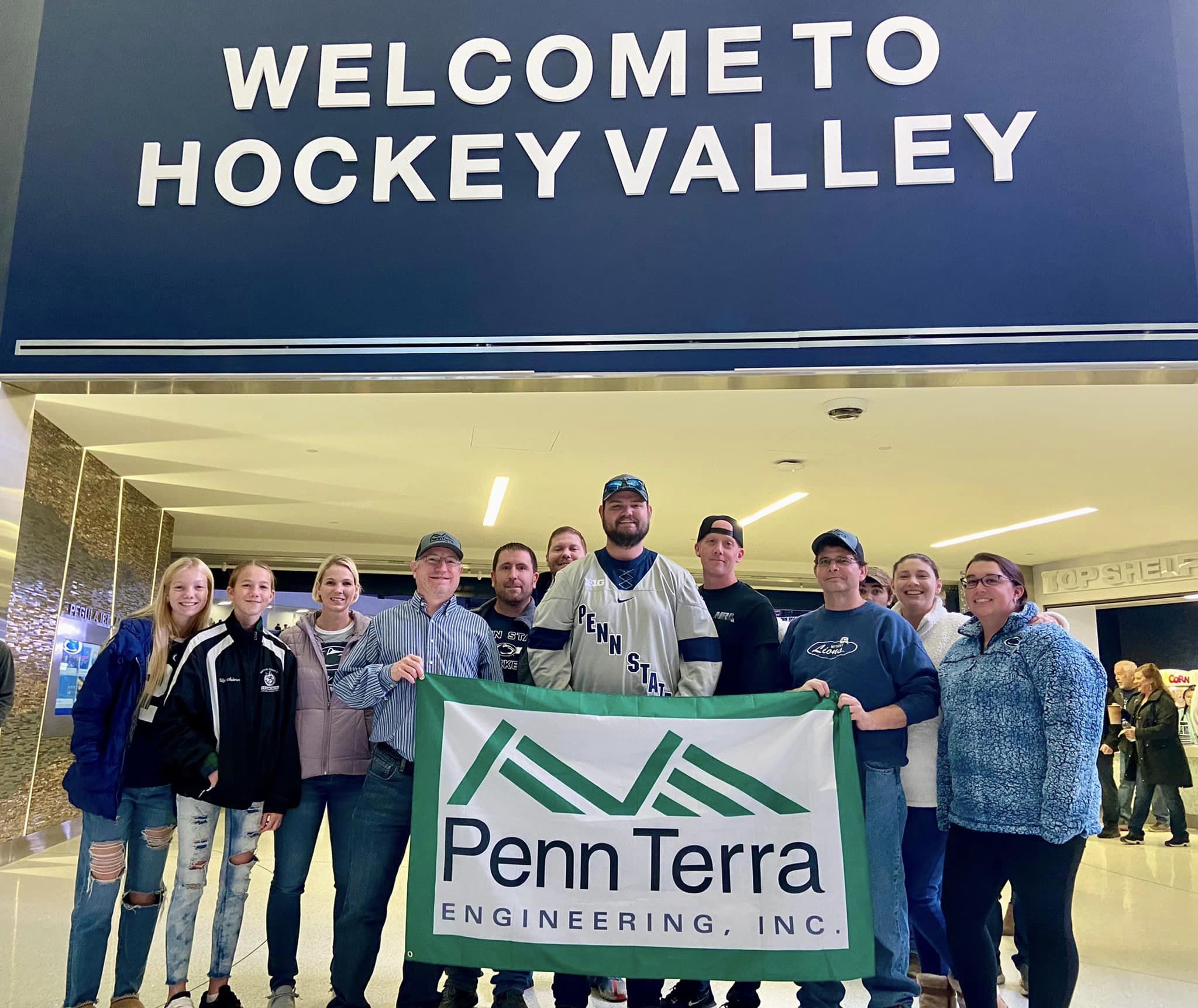 PTE employees and family members at 2022 Penn State Men's Hockey game.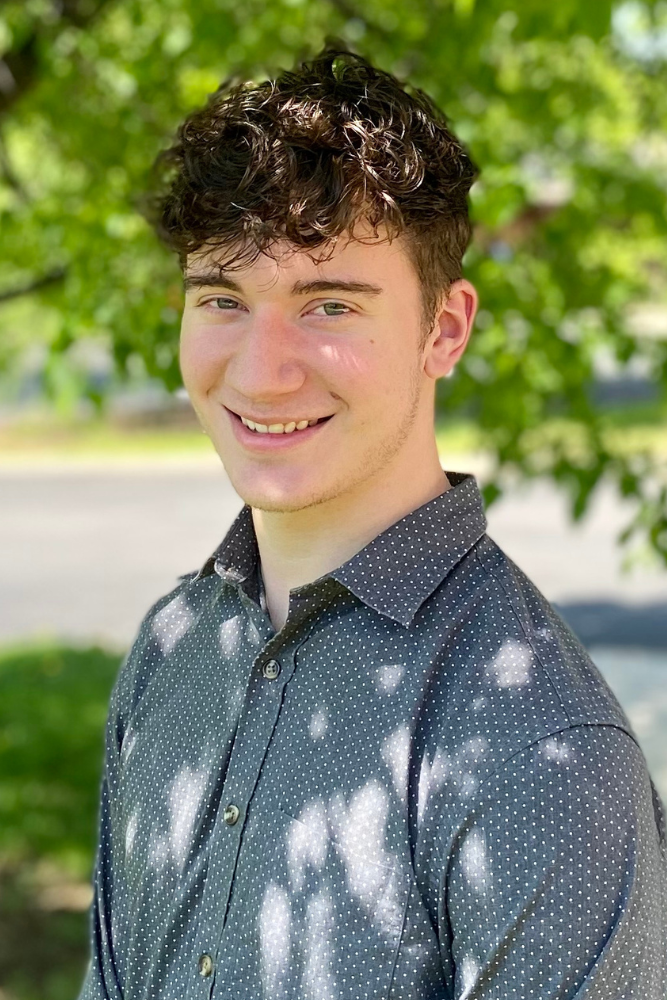 Posted by Irene Wetzel on 05/18/2023