Aspen Heights Squirrel Drive
State College, PA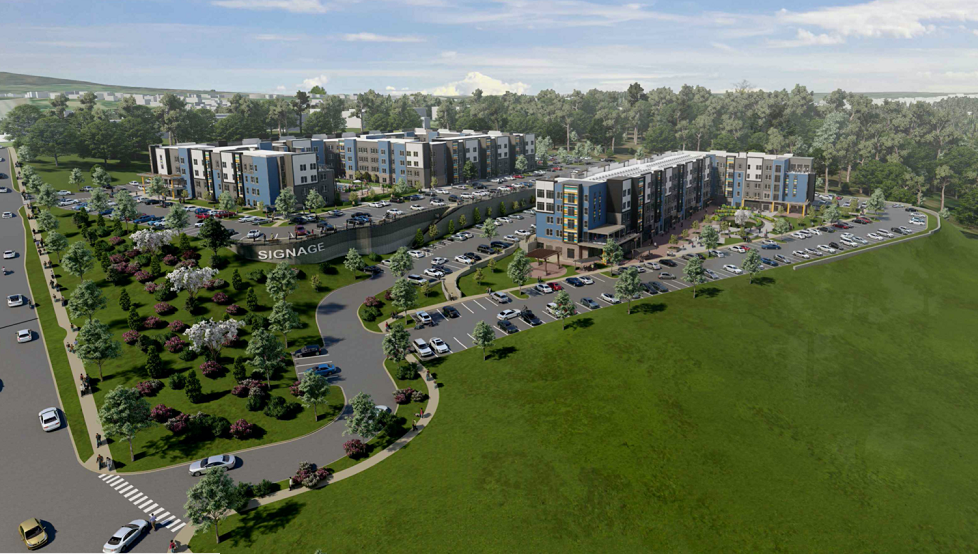 PennTerra Engineering was able to make this project fit the 17-acre site's challenging terrain by designing the project as a two-tiered community, separated by a retaining wall that integrated the two buildings with a built-in staircase. PennTerra and Aspen Heights worked closely with College Township on the landscape design, pedestrian connectivity, and the utility and infrastructure improvements that will benefit both the project and township citizens.

The underground stormwater system will detain up to 1,000,000 gallons and is the largest underground system that PennTerra Engineering's team has designed to date. Constructed with 11.5' aluminized steel pipes, this underground system will be buried under the lower level parking lot, filtering stormwater prior to recharging a large portion back into the ground via the use of aggregate and sand - including silica from Berkley Springs, West Virginia.
Located along College Avenue, most of the 262 units will be student housing for Penn State University, with 28 of those units dedicated to workforce housing. The four-story buildings will total over 370,000 square feet, with commercial spaces available on the first-story of the building closest to College Avenue.
In the News
Partners