Slusser and Miller Wetzel Join PennTerra Engineering, Inc.
In February, PennTerra Engineering, Inc. (PTE) welcomed two new team members: Lee Slusser and Irene Miller Wetzel!

"We are excited to expand our team," said John Sepp, President of PTE. "Lee's solid land development experience from the municipal perspective will certainly be appreciated by our clients and Irene's accomplishments in the community are a perfect match for our company, which is so tied to our community's progress."

Slusser joins the firm as a Project Manager with 24 years of experience in both the private sector and working in county, regional, and municipal levels of government. After graduating from the University of Pittsburgh with a bachelor's degree in Philosophy and Political Science, he went on to earn his master's degree in City and Regional Planning from The Ohio State University; additionally, he obtained certification from the American Institute of Certified Planners. He lives in Blair County with his wife, Jen, and two children, Andrea, 15, and Jack, 13. In his spare time, Slusser enjoys attending his kids' activities (4-H, band, and flag), watching football and basketball games, reading Wikipedia, and exploring the nooks and crannies of small town America.
"This is a great team and I've enjoyed getting to know the various projects that PennTerra is involved in, which range from single-family needs, to residential and student developments, and on to larger commercial spaces," noted Slusser. "I've always enjoyed the challenge of engineering and the reward of seeing a project come to life – it's something that gets into your spirit and I can already see that same passion starting with my daughter."
Miller Wetzel joins PTE as the Director of Business Development. After working in the community for a decade at Centre Foundation, State College Downtown Improvement District, and most recently at the Chamber of Business & Industry of Centre County, her local network will expand PennTerra's role in shaping Central Pennsylvania's future in terms of growth and redevelopment. After graduating from Mississippi University for Women with a bachelor's degree in Political Science, she worked in Mississippi, Washington, DC, and North Carolina before making Pennsylvania home. She lives in Pennsylvania Furnace with her husband, Drew, and daughter, Ellie, 1. In her spare time, she likes to play softball, go hiking with her family, and read historical non-fiction.
"My heart has always been community-focused, so it's really neat to see the team here at PennTerra designing the physical aspects of a community while being thoughtful about how community members will use them," reflected Miller Wetzel. "After spending many years in the non-profit realm, I'm looking forward to a new, private-sector adventure with my PennTerra colleagues and interacting with community members in this new dimension!"
For more information about PTE – or to learn more about joining our employee-owned team - please visit https://pennterra.com/careers.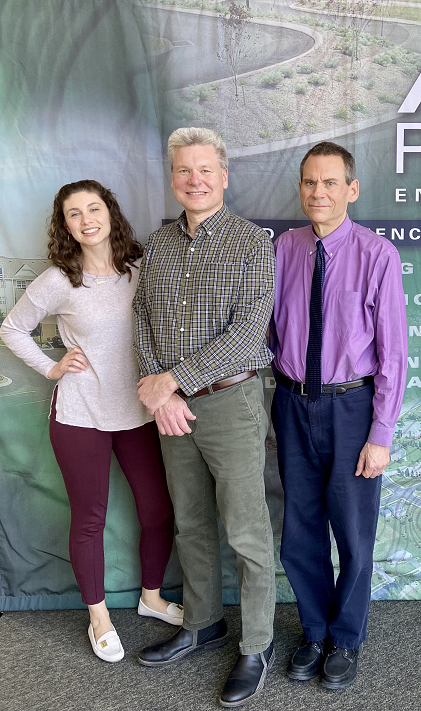 Posted by Irene Wetzel on 02/28/2022