Hunt Joins PennTerra as a Designer
State College, PA - Beth Hunt joined PennTerra Engineering, Inc. (PTE) in April as the firm's newest designer.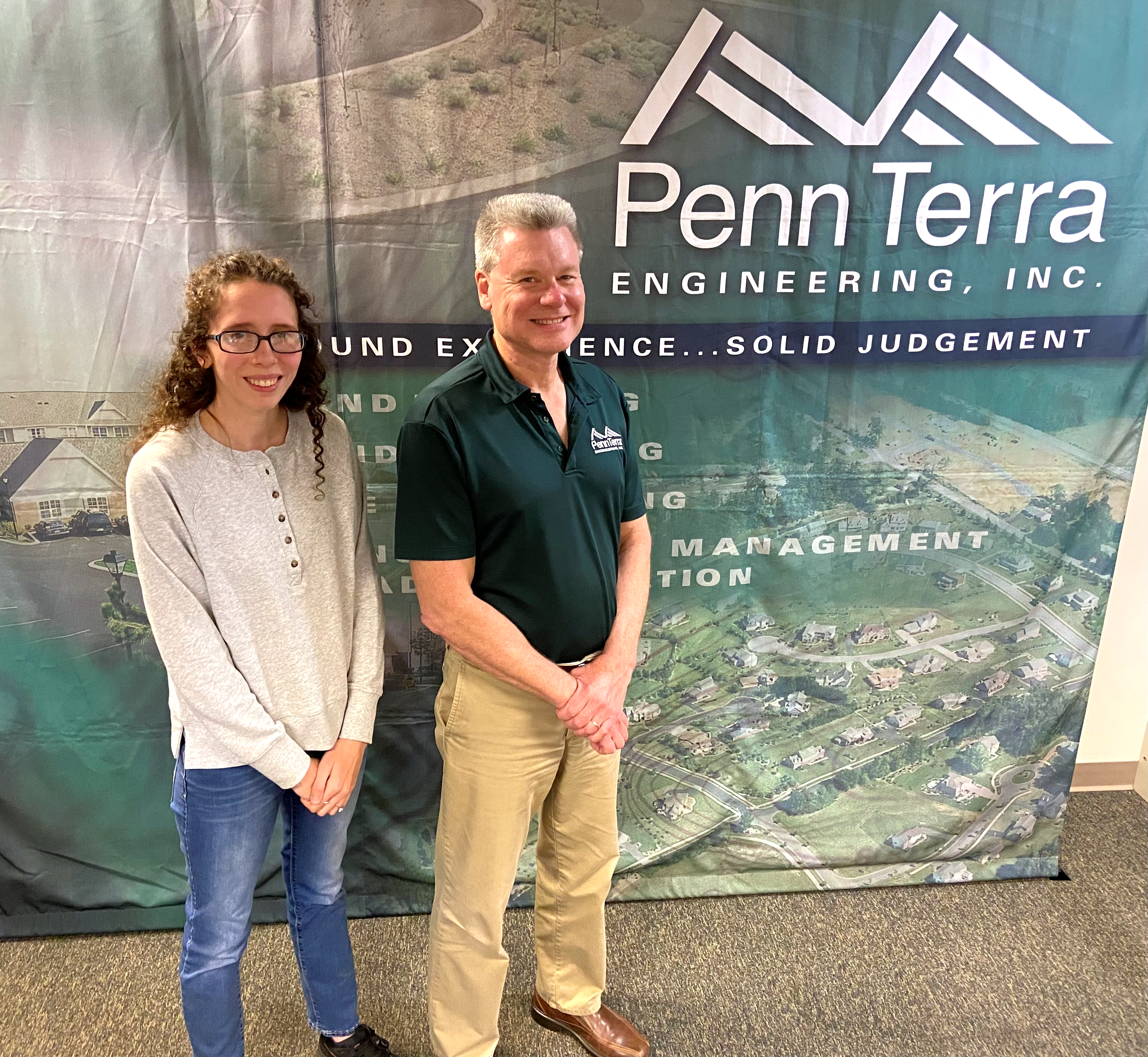 PennTerra Engineering's President, John Sepp, P.E., and the newest designer on the team, Beth Hunt.

"After hearing about PennTerra in school and looking at their website, I really like that many of the projects were local so I can see the results of our work," Hunt said.

Hunt is all smiles on her first day at PennTerra Engineering!

Hunt is a 2017 graduate of West Branch High School, where she also attended Clearfield County Career & Technology Center and enrolled in the Drafting & Design Technology Program. From there, she pursued her passion at Pennsylvania Highlands Community College, focusing on Architectural & Civil Design. This spring, she is completing her Capstone and will graduate from Pennsylvania College of Technology.
"We are excited to have Beth on board," noted John Sepp, P.E., President of PTE. "It is great to see someone her age pursuing a career in this field starting in high school and then continuing on into college – with great internships too!"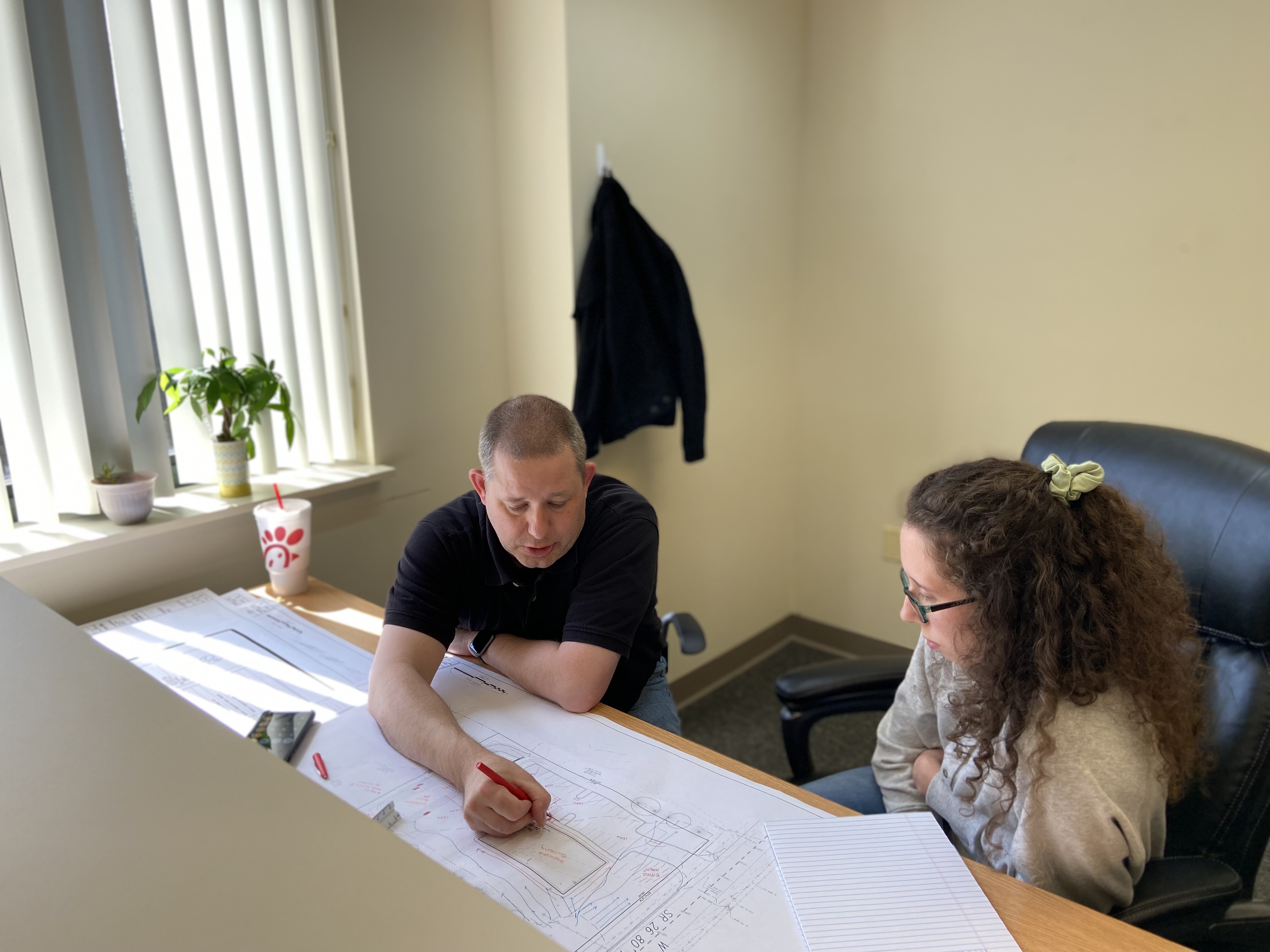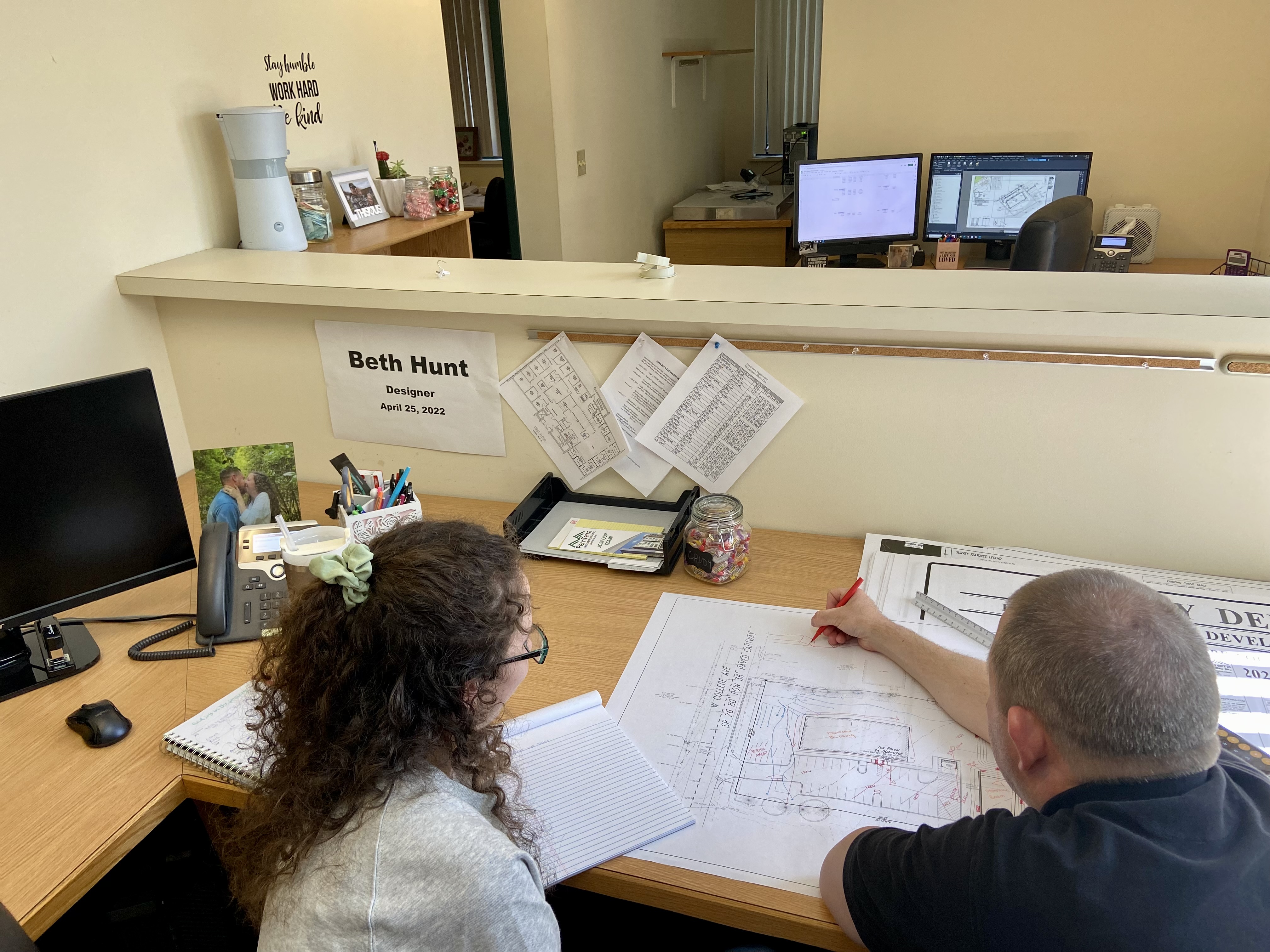 Jon Houser working with Hunt her first week on the job.

After completing two summer internships with the Pennsylvania Department of Transportation, Hunt took an internship with Hawbaker Engineering.
"Originally, I wanted to be a surveyor," Hunt recalls. "My final semester at Penn Highlands was all civil-related, so that's when I got really interested in the civil side of things."
Her PennDOT internship was filled with days of inspecting traffic lights for proper timing and general maintenance, as well as observing the 511 operators taking calls about accidents and other travel hazards. It instilled the importance of safely flowing traffic for a community to thrive.
At Hawbaker Engineering, Hunt's internship exposed her to real world clients. Her projects focused on land development, stormwater management, wetland delineation, and infiltration testing.
"By shadowing a professional, I really learned a lot from her," Hunt noted.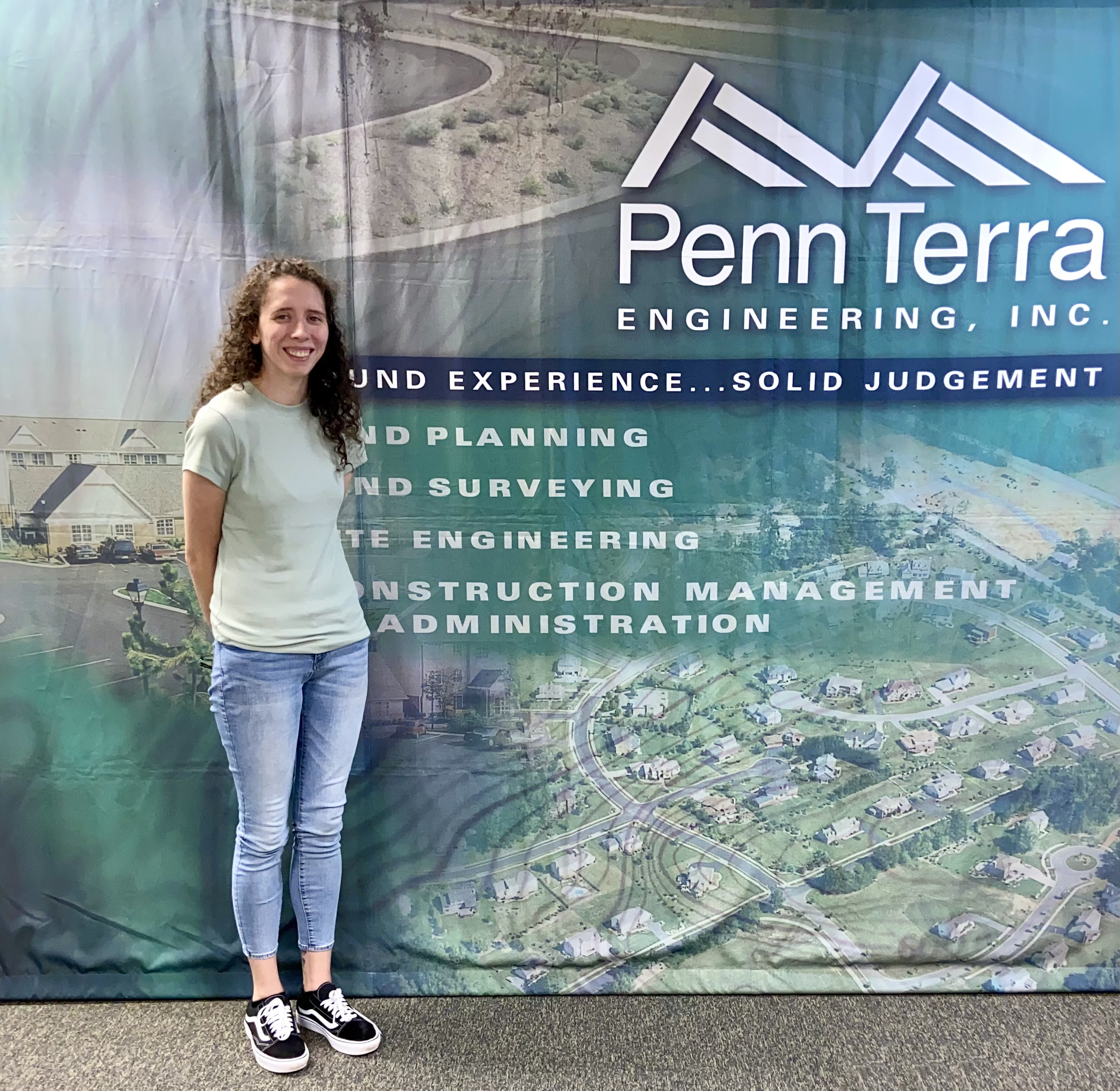 Away from her desk, the Morrisdale-native can be found hiking or kayaking - often in Black Moshannon State Park - or devouring a good book like the mystery of Seven and a Half Deaths of Evelyn Hardcastle. She also likes to keep life a little picante with visits to Rey Azteca.
Hunt says her role models are her mom, Sara, and dad, Don.
"I've done the work-two-jobs-and-go-to-school thing, so I really admire her for continuing her education," Hunt says of her mom, who works for Geisinger and is working toward her bachelor's degree. "My dad is just such a hard worker," Hunt says of his work ethic at the Walmart distribution center in Woodland.
The apple doesn't fall far from the tree, as Hunt is ready to hit the ground running with her colleagues at PTE.
"The best day at work would probably just be a day where nothing goes wrong in AutoCAD," Hunt said – spoken like a true designer. "I think my dream project would be something either medical or industrial."
To learn more or join this employee-owned company that has been bringing top-quality land development, design, and environmental services to clients since 1976, please visit pennterra.com.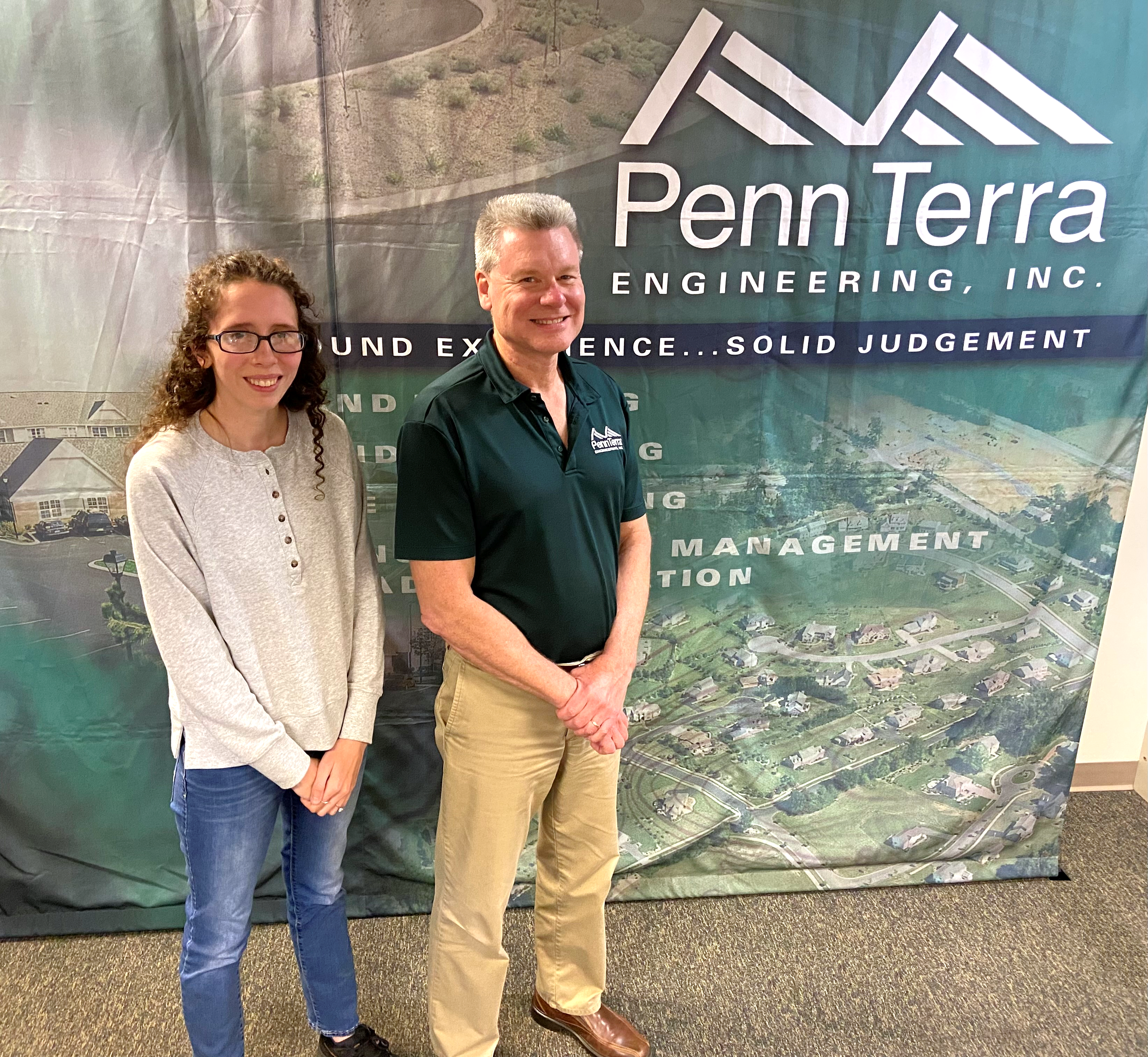 Posted by Irene Wetzel on 05/02/2022